Symptomatic treatment of nausea and vomiting.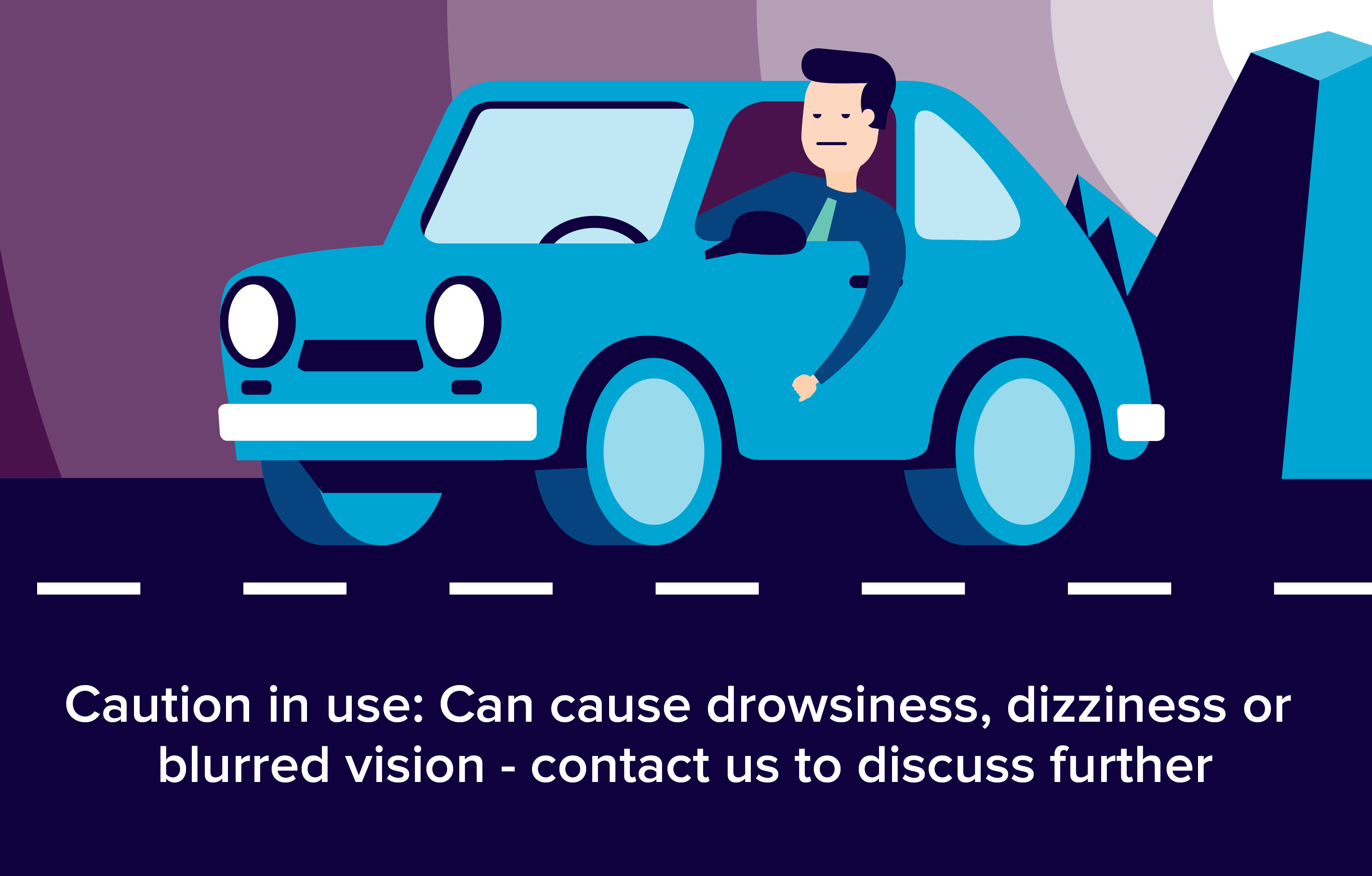 How to take Cariban?
Adults and children over 12 years of age: 1 capsule/8 h, up to a maximum of 70 mg per day (equivalent to 7 capsules).
Pregnant women: if the nausea occurs in the morning, take two capsules upon going to bed. If the nausea occurs during the day, take one capsule in the morning and another in the afternoon.
Contraindications
Hypersensitivity to the active substances or to any of the excipients
Hypersensitivity reactions to any other H1 antihistamine
Asthma attacks
Porphyria
Precautions for use
The suitability of treating patients with the following must be evaluated:
Glaucoma, pyloroduodenal obstruction, intestinal obstruction, stenosing peptic ulcer, urinary bladder obstruction, symptomatic prostate hypertrophy, urinary retention, hyperthyroidism, cardiovascular alterations and hypertension as the anticholinergic effects of this medicinal product may worsen these conditions.
Lower respiratory tract disease, such as asthma, pulmonary emphysema or chronic obstructive pulmonary disease. It has been demonstrated that antihistamines reduce the volume of bronchial secretions and increase their viscosity, thereby making bronchial expectoration more difficult. This may result in respiratory obstruction, which could worsen these conditions. As such, care should be taken in these patients.
Moderate or severe renal impairment
Hepatic impairment, dose adjustment may be necessary
Photosensitivity reactions: As an increased sensitivity of the skin to sunlight, with photodermatitis, has been observed with some antihistamines, sunbathing should be avoided during treatment.
The antiemetic effect of Cariban may interfere in the diagnosis of appendicitis.
As it may mask symptoms of ototoxicity (such as tinnitus and dizziness), Cariban must be administered with care in patients treated concomitantly with potentially ototoxic medications.
Care should be taken in epileptic patients as antihistamines have occasionally been associated with paradoxical hyperexcitability reactions, even at therapeutic doses.
Interaction
Cariban presents the following interactions:
Anticholinergic agents (tricyclic antidepressants, MAOI, neuroleptics): may enhance toxicity due to the addition of their anticholinergic effects.
Sedatives (barbiturates, benzodiazepines, antipsychotic agents, opiod analgesics): may enhance the hypnotic action
Ethyl alcohol: enhanced toxicity, with altered intellectual and psychomotor capacity, has been reported in some studies. The mechanism has not been established.
The anticholinergic effects of this medicinal product could lead to false negatives in dermal hypersensitivity tests with antigen extracts. Suspending treatment at least 72 hours before the event is recommended.
Fertility, pregnancy and lactation
Numerous epidemiological studies which indicate that Cariban does not exert adverse effects on gestational development or on the health of the foetus or newborn have been performed. Epidemiological evidence concerning its possible association with congenital malformations has been summarised in two meta-analyses. The first of these gave an OR for any congenital defect of 1.01 (95% CI: 0.66-1.55) and the second an OR of 0.95 (95% CI: 0.88-1.04). As such, both conclude that Cariban is not associated with an increased malformation rate. Consequently, Cariban may be used safely during pregnancy when indicated.
Although pyridoxine is not toxic at the recommended dose, chronic administration at high doses may cause neurotoxicity. Pyridoxal (the active form of pyridoxine) crosses the placental barrier, reaching foetal plasma concentrations 5 times higher than those in the mother.
Effects on ability to drive and use machines
The influence of Cariban on the ability to drive and operate machinery is significant. This medicinal product may cause drowsiness, especially during the first few days of treatment, therefore situations that require a special level of alertness, such as driving vehicles or using hazardous machinery, must be avoided during treatment.
Undesirable effects
The following definitions are applicable to the incidence of adverse reactions:
Very common (≥1/10); common (≥1/100, <1/10); uncommon (≥1/1000, <1/100); rare (≥1/10,000, < 1/1000), very rare (<1/10,000).
The undesirable events are listed in descending order of severity within each degree of frequency.
The following adverse reactions have been reported after the administration of Cariban:
General disorders:
Cardiovascular disorders:
Uncommon: orthostatic hypotension, peripheral oedema
Blood disorders:
Gastrointestinal disorders:
Common: dry mouth, constipation Uncommon: nausea, vomiting, diarrhoea.
Nervous system disorders:
Common: drowsiness, especially upon commencing treatment, which usually decreases after 2-3 days. Uncommon: confusion
Rare: tremor, seizures, paradoxical excitation, especially in children and the elderly
Ear and labyrinth disorders:
Renal and urinary disorders:
Common: urinary retention
Respiratory, thoracic and mediastinal disorders:
Common: bronchial hypersecretion
Eye disorders:
Common: blurred vision
Uncommon: diplopia, glaucoma
Skin and subcutaneous tissue disorders:
Uncommon: exanthematous rash, photosensitivity reactions
The adverse reactions mentioned above arise due to the action of doxylamine succinate as pyridoxine hydrochloride does not present side-effects, although chronic administration at high doses has been associated with neurotoxicity.
Special precautions for storage
No special storage conditions are required.
References:
http://inibsa.com/wp-content/uploads/2015/07/FT-Cariban-10-mg-10-ml-EN.pdf
https://inibsa.com/wp-content/uploads/2016/10/En-spc-V1.pdf