Ucerax tablets and syrup contain the active ingredient hydroxyzine, which is a type of medicine called a sedating antihistamine.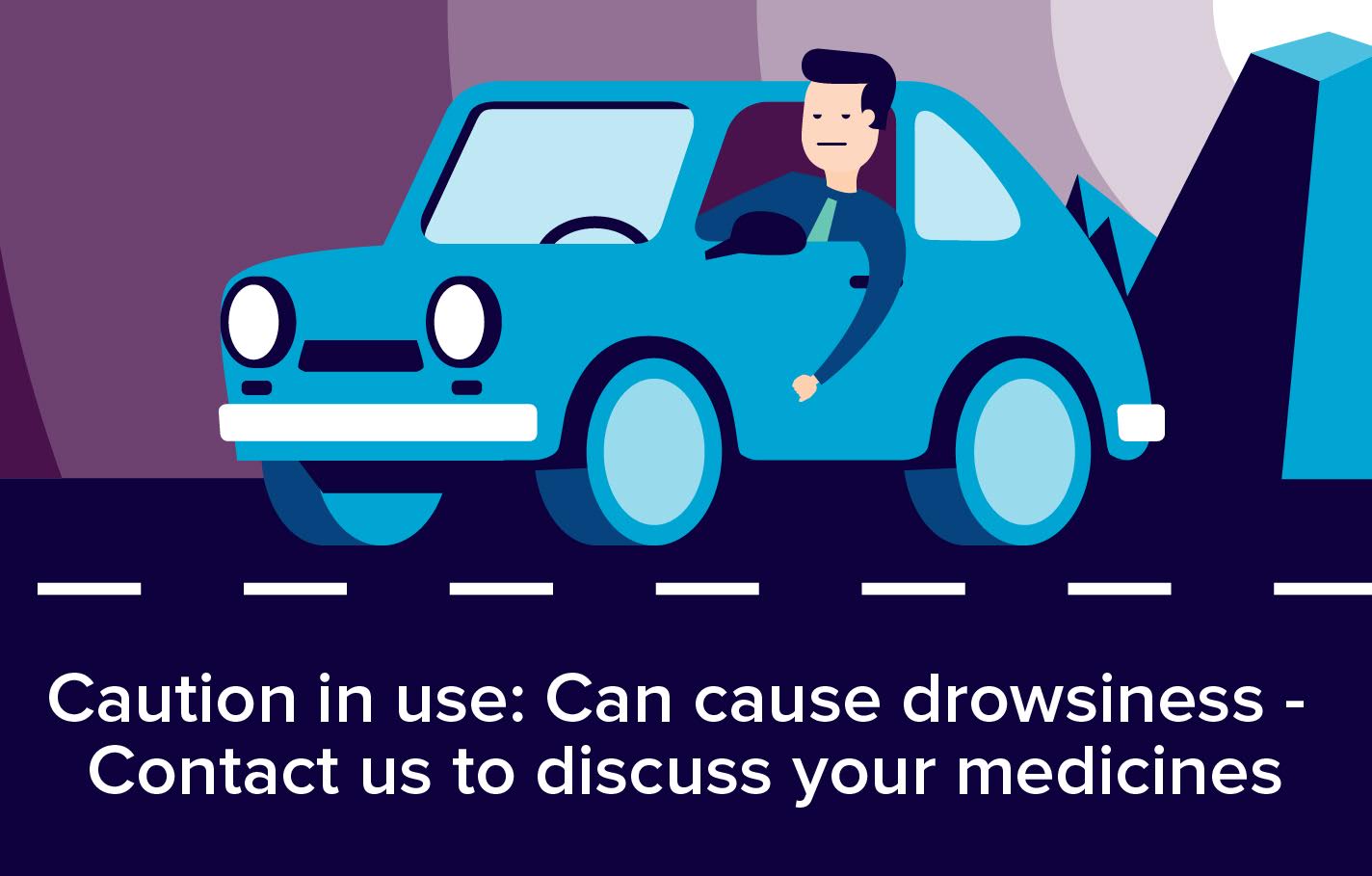 What is Ucerax used for?
Relieving itching associated with acute and chronic nettle rash (hives or urticaria) and atopic or contact eczema.
Anxiety in adults.
How does Ucerax work?
Ucerax tablets and syrup contain the active ingredient hydroxyzine, which is a type of medicine called a sedating antihistamine.
Histamine is a substance produced by the body as part of an allergic reaction. It causes an increase in blood flow to the area of the allergy, and the release of other chemicals that add to the allergic response. All this results in the symptoms of allergic reactions.
Histamine is responsible for causing the itching associated with a nettle-type rash and with allergic eczema.
Hydroxyzine blocks histamine receptors and so stops these actions of histamine.
Hydroxyzine enters the brain in significant quantities and causes drowsiness.
The antihistamine action and the fact that it causes drowsiness make hydroxyzine useful for relieving itching associated with nettle rash and allergic eczema. It may be especially helpful for itching that is worse at night. This is often the case in children, who notice itching less during the day when they are active, but are bothered by it at night when they are still and have nothing else to focus on.
Hydroxyzine is also sometimes used in the short-term treatment of anxiety in adults. It produces a calming effect in anxious, tense adults because it causes drowsiness and may suppress activity in certain regions of the central nervous system.
How do I take Ucerax?
The dose of Ucerax prescribed and how often to take the medicine depends on the age of the person taking it, the condition being treated and how well it responds. It is important to follow the instructions given by your doctor. These will also be printed on the dispensing label that your pharmacist has put on the packet of medicine.
Ucerax can be taken with or without food. The tablets should be swallowed with a drink of water.
The medicine should be taken for as short a time as possible. Do not exceed the dose prescribed by your doctor.
Ucerax should be used with caution in
Children.
Elderly people.
People with decreased liver function (this medicine should be avoided in people with severe liver disease or liver failure).
People with decreased kidney function and people having dialysis for kidney failure.
People with conditions that cause difficulty passing urine or urine retention, eg enlarged prostate gland or blockage of the drainage of urine out of the bladder (bladder neck obstruction).
People with any obstruction or decreased activity in the gut.
People with raised pressure in the eyeball or glaucoma.
People with convulsive disorders such as epilepsy.
People with a condition called myasthenia gravis, which involves abnormal muscle weakness.
People with an overactive thyroid gland (hyperthyroidism).
People with breathing problems such as emphysema or bronchitis.
People with a family history of sudden death at an early age due to a heart problem.
Dementia.
People with diabetes should be aware that Ucerax syrup contains sucrose.
Ucerax should not be used in
Pregnancy.
Breastfeeding.
Hereditary blood disorders called porphyrias.
People with heart disease or an irregular heartbeat (arrhythmia).
People with an abnormal heart rhythm seen on a heart monitoring trace (ECG) as a 'prolonged QT interval' and people taking medicines that can cause this problem (see end of page for examples).
People with a very slow heartbeat (bradycardia).
People with disturbances in the levels of electrolytes in their blood, particularly low blood potassium or magnesium levels.
People with asthma who have previously had a severe asthma attack brought on by taking an antihistamine.
People who have previously had an allergic reaction to hydroxyzine, cetirizine, other piperazine derivatives, aminophylline or ethylenediamine.
Ucerax is not licensed for use in children under one year of age.
Ucerax tablets contain lactose and are not suitable for people with rare hereditary problems of galactose intolerance, the Lapp lactase deficiency or glucose-galactose malabsorption.
Ucerax syrup contains sucrose and is not suitable for people with with rare hereditary problems of fructose intolerance, glucose-galactose malabsorption or sucrase-isomaltase insufficiency.
This medicine should not be used if you are allergic to one or any of its ingredients. Please inform your doctor or pharmacist if you have previously experienced such an allergy.
If you feel you have experienced an allergic reaction, stop using this medicine and inform your doctor or pharmacist immediately.
Pregnancy and breastfeeding
Certain medicines should not be used during pregnancy or breastfeeding. However, other medicines may be safely used in pregnancy or breastfeeding providing the benefits to the mother outweigh the risks to the unborn baby. Always inform your doctor if you are pregnant or planning a pregnancy, before using any medicine.
The safety of this medicine for use during pregnancy has not been established. It should not be used during pregnancy as it could be harmful to a developing baby. Consult your doctor for further advice.
It is expected that this medicine will pass into breast milk. As it could potentially be harmful to a nursing infant, you should not take this medicine if you are breastfeeding. Seek further medical advice from your doctor.
Possible side effects of Ucerax
Medicines and their possible side effects can affect individual people in different ways. The following are some of the side effects that are known to be associated with this medicine. Just because a side effect is stated here does not mean that all people using this medicine will experience that or any side effect.
Drowsiness.
Headache.
Dry mouth.
Feeling weak, tired, or generally unwell.
Dizziness.
Constipation.
Nausea and vomiting.
Difficulty sleeping (insomnia).
Feeling confused or disorientated.
Agitation.
Hallucinations.
Blurred vision.
Difficulty passing urine (urinary retention).
Increased heart rate (tachycardia).
Awareness of your heartbeat (palpitations).
Irregular heart rhythm.
Low blood pressure.
Thickened secretions in the respiratory tract.
Wheezing or chest tightness.
Tremor.
Convulsions.
For more information about any other possible risks associated with this medicine, please read the information provided with the medicine or consult your doctor or pharmacist.
How can Ucerax affect other medicines?
It is important to tell your doctor or pharmacist what medicines you are already taking, including those bought without a prescription and herbal medicines, before you start treatment with this medicine. Similarly, check with your doctor or pharmacist before taking any new medicines while taking this one, to make sure that the combination is safe.
There may be an increased risk of drowsiness if this medicine is taken with any of the following (which can also cause drowsiness):
alcohol
antipsychotic medicines, eg chlorpromazine, haloperidol
barbiturates, eg phenobarbital, amobarbital
benzodiazepines, eg diazepam, temazepam
muscle relaxants, eg baclofen
other sedating antihistamines, eg chlorphenamine, promethazine
sleeping tablets, eg zopiclone
strong opioid painkillers, eg morphine, codeine, fentanyl
tricyclic antidepressants, eg amitriptyline, imipramine.
There may be an increased risk of side effects such as dry mouth, blurred vision, difficulty passing urine and constipation if hydroxyzine is taken with anticholinergic medicines that can cause these type of side effects, such as the following:
anticholinergic medicines for Parkinson's symptoms, eg procyclidine, orphenadrine, trihexyphenidyl
anticholinergic medicines for urinary incontinence, eg oxybutynin, flavoxate, tolterodine, propiverine, trospium
antipsychotics, eg chlorpromazine, clozapine
antispasmodics, eg hyoscine, atropine
MAOI antidepressants, eg phenelzine
tricyclic antidepressants, eg amitriptyline, imipramine.
There may be an increased risk of abnormal heart beats if hydroxyzine is taken in combination with other medicines that can affect the heart rhythm (prolonged QT interval on an ECG), such as the following:
arsenic trioxide
atomoxetine
boceprevir
bosutinib
certain medicines to treat abnormal heartbeats (antiarrhythmics), eg amiodarone, procainamide, quinidine, disopyramide, sotalol, dronedarone
certain antidepressants, eg citalopram, escitalopram, clomipramine
certain antipsychotics, eg haloperidol, chlorpromazine, sertindole, thioridazine, pimozide, amisulpride, quetiapine
certain antimalarials, eg quinine, mefloquine, chloroquine, Riamet
certain anti-infectives, eg clarithromycin, telithromycin, voriconazole, pentamidine, moxifloxacin
cisapride
delamanid
domperidone
droperidol
methadone
ranolazine
saquinavir
sildenafil
telaprevir
terfenadine
tolterodine
vandetanib
vardenafil.
This medicine may oppose the effect of histamine used to treat leukaemia and is not recommended for people having this treatment.
This medicine may oppose the effect of betahistine used to treat Ménière's disease.
Cimetidine may increase the level of hydroxyzine in the blood and could increase the risk of its side effects.
References:
https://treato.com/Ucerax/?a=s
https://www.medicines.org.uk/emc/medicine/20572
http://www.netdoctor.co.uk/medicines/depression/a7702/ucerax-hydroxyzine/
https://www.drugs.com/uk/ucerax-25-mg-film-coated-tablets-spc-4590.html
http://patient.info/medicine/hydroxyzine-atarax-ucerax